So, you just landed a brand-new job, and now, it's time to think about what you can and can't wear to work. As you search your closet for clothes that are appropriate for the workplace, you may notice ripped jeans. Ripped jeans are fashionable, but are they suitable for work?
Can you wear ripped jeans to work? If you work in a more formal atmosphere, ripped jeans are not appropriate to wear to work. However, some workplaces are more relaxed and allow ripped jeans.
There are many factors that determine what is appropriate to wear in your workplace. In this article, you will learn about the importance of following the dress code at your workplace and the types of jobs that allow ripped jeans.
Is it Appropriate to Wear Ripped Jeans to Work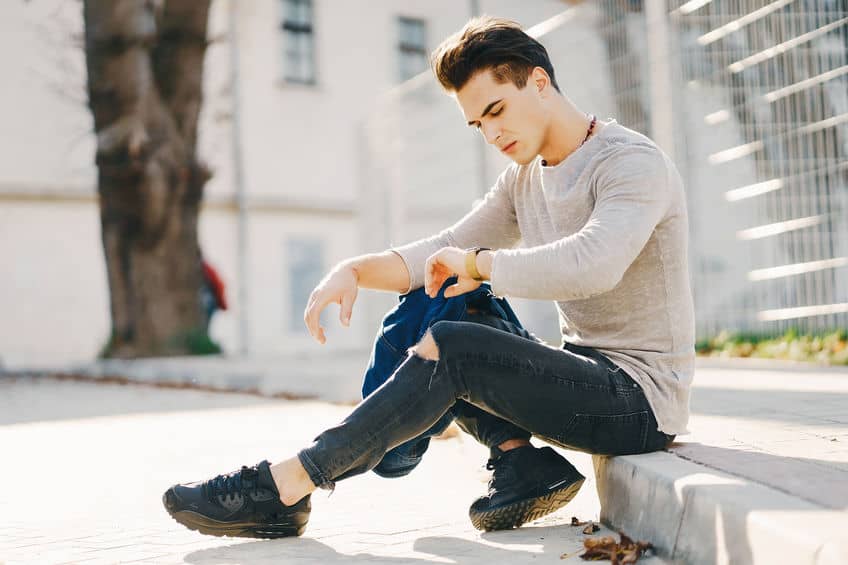 If you are wondering whether ripped jeans can be worn at your workplace, read over your job's dress code. If the answer is still not clear, check with your Human Resources Department. Every workplace has specific rules about what you can and can't wear while working.
Following the dress code at your place of work is important. Wearing something that you shouldn't to work can get you into trouble. You don't want to show up for work just to be sent home or possibly get written up.
The type of work environment you are in can also determine if you can wear ripped jeans to work. For instance, if you are working in a law firm, the dress code will be more formal than casual, but, if you are working in a retail setting, the dress code is generally more casual and could allow ripped jeans.
Also if you have to travel to a client site you need to be aware of the client dress code. Depending on the activity you perform at the client site such as sales or consulting, many companies might require you to overdress which may not include ripped jeans.
Even in more formal workplaces, jeans can be worn to work in certain situations. Some workplaces offer casual Friday or have options within the dress code that allow jeans. If you are going to wear jeans to work, make sure you are doing it professionally. Keep your jeans clean cut and wear a pair that aren't too tight or have holes in them.
What Else Should You Avoid Wearing to Work?
Ripped jeans aren't the only clothing item you should avoid wearing to work. Showing up to work in inappropriate work clothing shows that you are negligent of the rules at your workplace and can cause you to be disciplined or even lose your job.  
Other clothing items that may not be allowed in the workplace include:
Miniskirts/short shorts
Shirts that show any kind of cleavage
Clothes that are too tight
Clothes with inappropriate sayings or photos
Saggy or extremely baggy pants
Flip-flops
Ripped clothes of any kind
Typically you should dress for the job that you want to get. Meaning if you see or want a certain role in your company, then you might want to pay attention to what others are wearing in that same position.
Jobs That May Allow You to Wear Ripped Jeans
If you are wondering if your future job might allow you to wear your favorite pair of ripped jeans at work, consider looking into the company before applying. Some companies may even have an overview on their website of what they consider appropriate work attire that you can look through before you even submit your resume or application.
There are more casual jobs that would let you wear your ripped jeans. If you are looking into a retail position (especially a clothing store of some kind) they may say that ripped jeans are fine to wear. If the store likes the employees to wear the merchandise they sell, you could be allowed to wear the ripped jeans from that store.
Many places require a uniform for their employees but use "dress down" days as incentives for their employees or a way to raise money for charities. Workers get to wear jeans for a day for things like great work performance or paying $1 to the charity the company has chosen. Still, some workplaces may not allow ripped jeans for days like this, so always check first.
Should You Wear Ripped Jeans to an Interview?
The interview is the first impression you will make on the potential company or future boss. What you pick to wear for the interview is important. You want to show them that you are professional and want the job. This is a situation where you will always want to dress to impress. You should avoid wearing ripped jeans or jeans of any kind to the interview.
Are Ripped Jeans Considered Casual?
Yes, ripped jeans are considered casual and are typically worn in casual situations. They are perfect for a night out with your friends or for spending the day shopping. However, like other casual clothing, they are not appropriate for certain situations. You don't want to show up in a courtroom wearing ripped jeans when you should be wearing something more formal.
If you are going to be wearing ripped jeans in a more relaxed environment, consider pairing them with the following items:
Casual tennis shoes or sneakers
T-shirts
Loose-fitting cardigans
Oversized sweatshirts
Flannel tops
How to Dress up Your Ripped Jeans
If your job allows you to wear ripped jeans, you should consider dressing them up a bit instead of just pairing them with a t-shirt and sneakers. There are ways to dress your ripped jeans up and create an outfit that is suitable for work.
Some ways that you can dress up your ripped jeans for work are:
Pair them with a button-down shirt. Button-down shirts are a great clothing item that can help any pair of jeans appear more formal.
Pair them with a dressy sweater. For days that are colder, you can pair your ripped jeans with a sweater to keep warm and look classy.
Pick the right kind of shoes. Ripped jeans look great with flats and can also be paired with boots or booties. Always avoid sneakers when dressing up your jeans.
Wearing a Peplum top. If you want to dress up your ripped jeans, consider pairing them with a peplum top. 
Jackets can dress up the outfit. If you want to be dressy and warm, consider wearing a dressy biker style jacket. 
Where Did Ripped Jeans Come From?
It's time for a short history lesson. When jeans were invented late in the 19th century, ripped or distressed jeans were a sign of a hard day's work. If someone were to wear ripped jeans, it meant they had a job that required manual labor and the jeans were taking a beating.
Distressed clothes became popular in the '90s when grunge was all the rage. People loved the casual look of the ripped jeans, and suddenly, ripped jeans were in everyone's closets. It seemed kind of strange that a company would make a perfect pair of jeans just to create distressed rips in the pants.
Today, you will see people wearing ripped jeans in many different ways. People wear ripped jeans casually, while others wear them in a dressier nature.
In Conclusion…
Remember that wearing ripped jeans to work will vary depending on the employer. Always check with your company's dress code to make sure you are following their specific guidelines, and you shouldn't ever have to wonder if ripped jeans are appropriate at your workplace.