More and more people are calling it quits on the traditional 9-5 in favor of working remotely. Remote jobs allow you to work wherever, and many have a flexible schedule. If you know how to find remote jobs on ZipRecruiter, you can join the growing number of remote workers.
How do you find remote jobs on ZipRecruiter? The easiest way to find remote jobs on ZipRecruiter is to use some keywords. Terms like "remote job" or "telecommute jobs" can bring up jobs that don't require a specific location. After finding some remote jobs, applying to them isn't any different than applying to an in-person position.
If you want to start your remote job search, you have to know where to look. General job search websites, like ZipRecruiter, have plenty of remote jobs. However, you have to know what terms to search for to find your dream job.
How to Find Remote Jobs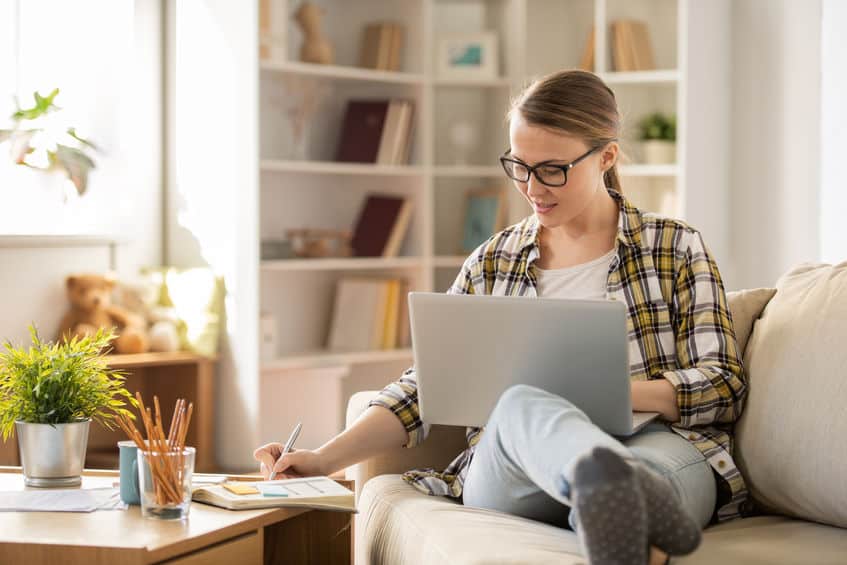 In some ways, finding remote jobs is very similar to finding traditional jobs. However, there are some important differences to consider during your remote job search. Not only do you have to consider if the job is right for you, but you also must determine if the company even hires remote workers.
One of the best things about finding remote jobs is that you don't have to go in person to find these positions. You can use websites like ZipRecruiter to find jobs that suit your interests and that you can do from anywhere. Of course, you will have to follow some traditional job search steps.
You'll have to apply for jobs with your resume, and some jobs will require an application. You might even have to complete a phone or video interview to get a job. Still, you shouldn't let those steps deter you from following your dream of working remotely.
1. Know Your Industry
Like with any job, you should know the basics of the industry you want to work in. Whether you're looking for a remote graphic design job or an accounting position, you should know what your industry expects from remote workers. While every company is different, knowing the basics can help you through the job search and application process.
Before you spend time looking for remote jobs, you should determine if you can do your dream job from anywhere.
Some positions, like designing, are very flexible, so you can find tons of potential jobs.
On the other hand, other positions, like jobs that require driving, may be somewhat flexible, but you still need to show up in a certain area.
If you're applying for a higher-level position, you might also not have as much location flexibility as an entry-level employee.
Of course, there are companies that will fall outside the norm. Even if your industry doesn't have a lot of remote jobs, you can find some with the right steps.
Learning as much as you can about your industry and the possibility for remote work can help you decide which positions to look for. That way, you don't spend hours looking for jobs that all require you to show up to a specific location. It will also help you narrow your search when you get on ZipRecruiter.
2. Optimize Your Account
Once you create an account with ZipRecruiter, you need to optimize it to find remote jobs. If you've never used ZipRecruiter before, you may need to apply for a job before you can create an account. In that case, follow the steps to apply for a job, then you can optimize your profile later.
After you create an account, fill out as much information as you can about yourself and your work history. If you have any remote work experience, note that on your resume for ZipRecruiter. You should also add remote work into your executive statement so that it's clear to employers that you want to work outside of the office.
Not only will this help when you apply for jobs, but it can help employers know what you want from a job. An employer looking for people to work in the office will know that you're not the right fit for them. You can save yourself time from having to respond to employers who want something that you don't.
As you apply to more jobs, you can adjust your profile accordingly. If you find that something isn't working, you can make a change. Perhaps you are willing to work in an office part-time, so you can include that on your profile to open yourself up to more employers.
3. Use Keywords
The next step in finding remote jobs on ZipRecruiter is to use the right search terms and keywords. Of course, you want to include the title or industry that you're interested in. However, you need to search for remote jobs within that industry.
In the search field, include terms like remote, virtual, or telecommute.
Avoid using the location section because you either won't get any results, or you'll get results for the town of Remote, Oregon.
Putting remote and similar terms in the main search box will bring up jobs that mention working remotely.
Using those terms can cut down the time it takes to find jobs that you want to apply to, and you can keep from applying to jobs that aren't the right fit.
Using the right search terms is important for any job, but it's crucial for remote jobs. If you don't use the right keywords, you can waste time scrolling through jobs that you don't want. You can learn more about searching for jobs on ZipRecruiter here.
4. Research the Company
If you don't have much luck finding remote jobs by searching with the right terms, you can look for specific companies. Perhaps you want to work for a certain company, but you don't want to work in the office. In that case, you can see if the company has jobs on ZipRecruiter.
You can also check out a company's website if you find an interesting job from them. Even if the ZipRecruiter listing doesn't mention working remotely, you can explore their website to see if it's a possibility. While a company job listing might not mention remote work, they could be open to the idea.
If you fit all the qualifications, don't ignore jobs that don't have remote in the listing. You can go through the application and interview process, and you can ask about remote work. While telecommuting is becoming more popular, it may not be on every company's radar.
Doing a bit of research on the company and positions you want to apply for can help you determine where you might be able to work from home. That way, you can find the best remote job for you.
5. Consider Negotiating
If you apply for a job and find out that the company wants someone to work in the office, don't back away just yet. Consider how well the position fits your skills and interests. If you find a job that is perfect except for the location, ask if you can work remotely.
You don't want to give up a great job because of one small factor. Instead, ask if you can work from home.
If you live near the office, see if you can work from home part of the time and only come into the office for meetings.
For long-distance positions, ask if you can use a video chat service to attend meetings.
Negotiating can be a great way to find a remote job, especially if you don't have much luck elsewhere. After all, the worst that can happen is the company says no, and you decide it's not the job for you. However, the company might be open to the idea of you working from home.
How to Land Remote Jobs
Once you find a bunch of remote jobs, you have a few more steps before you can start working. You have to make sure that you have everything in order so that you send great applications. That way, you can land the best remote job for you.
6. Verify Your Contact Info
Before you submit an application, make sure you entered your email and phone number correctly. While ZipRecruiter hosts some job applications, you might need to go directly to a company website to apply for certain positions. For those jobs, you need to provide the right contact info so that the company can get back to you.
There's nothing worse than spending time on a perfect application only to never hear back because you didn't send the right email address. Before you send an application, proofread it and double-check your email address and phone number. Without the right info, the company won't be able to respond.
Not only will you not be able to continue with the application process, but you also won't know if the company sends you a rejection. Of course, no one wants to be rejected, but receiving that notice means you can put your effort into other jobs.
7. Apply Like Normal
Once you verify your contact info and are ready to apply to jobs, apply as you would to any job. In many cases, remote jobs have very similar applications to in-person work. You need to provide your name and contact info, as well as your resume and a cover letter.
Even though a job is remote, you still need to take the application seriously.
Write a professional cover letter and make the letter unique for each position.
Keep track of the jobs you apply to like you would with any job search.
You don't have to do anything crazy to apply to remote jobs.
The more you apply to remote jobs, the easier it will get. However, you don't need to experience working remotely to apply to these jobs. If you have any job search experience, you can use that on this new search.
8. Apply to Many Jobs
When you focus on applying to remote jobs, you have access to a lot more jobs than when you apply to jobs in your city. You can apply for a job at a company that has offices on the other side of the country or the world. While this can be overwhelming at first, it opens you up to a lot of jobs.
The more jobs you apply to, the more likely you will land at least one good position. You don't have to worry about moving to accept and start your dream job, so you can focus more on the company and job title than the location.
In some ways, it can be easier to find remote jobs since the location doesn't matter to the company. For better or worse, some companies only consider local candidates for in-person jobs. However, you don't have to worry about that when you look for and apply to online jobs.
9. Express Interest
Whether the job you apply to lists remote work as an option or not, use your application to show your interest in working remotely. Include your desire to work from anywhere in your cover letter or on your resume. If a job application includes a section for questions you have for the company, ask about their remote working policies.
You should also include any skills or qualities that you have that make you a good remote worker. Discipline, organization, and a good work ethic are all essential for working remotely. When you work from home or elsewhere, you won't have a boss watching over you.
Not only do you have to show the company you want to work remotely, but you also have to prove that you can do it. You still need to get the job done, even if you're sitting on a beach sipping on coconut milk.
10. Be Willing to Video Chat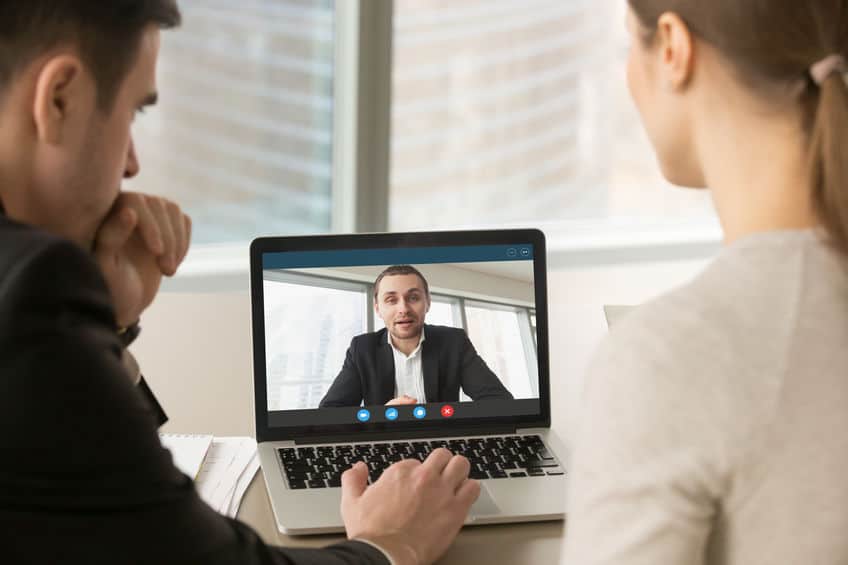 As you progress through the application process, you may have to complete an interview with one or more companies. While some companies won't require this, others will want to speak with you and see your face.
At the very least, you should be able to complete a phone interview with a company.
If necessary, be prepared to set up a video call to interview for a job.
Not only will the ability to talk on the phone or over video help you get the job, but it can also show that you can do those things with clients or other employees.
Depending on the remote job you're looking for, you may need to go through a series of interviews. The ability to call or video chat with a company can come in handy after you land the job, so doing it now can help you prove yourself to the company. You'll also get a chance to ask questions about the company and how they work with remote workers.
11. Follow Up
As with any job, you may need to follow up with a remote job to check on your status or to see if they need anything from you. If you applied a week or so ago, it might be time to send an email or make a phone call to the company. It can be easy for them to lose your application in a sea of many others.
Contacting a company can be a great way to make sure they don't miss your application. It can also help you stand out by showing you're still interested in the position. However, you don't want to overdo it.
While you should follow up after a week of no updates, follow up once. Send an email or make a call, but try not to do both. If one doesn't work, wait a few days and try the other method. Many companies are busy, and odds are they have a lot of applications to consider.
You don't want to alienate a company by constantly asking for updates. Even if you're the perfect applicant, asking for updates too much could make you come off as desperate. Instead, try to focus on other potential remote jobs while you wait to hear back.
12. Sign and Scan
The time has come where you've gone through the job search process, you interviewed with a few companies, and now you have an offer. You've decided to accept a remote job for a company, and you're ready to start working. However, you have to submit some onboarding paperwork.
Many companies have new employees fill out paperwork when they first start, like tax forms, legal agreements, and more. Before you celebrate your new job, make sure you sign the paperwork and that you can scan it to your computer. After all, you'll need to do a lot from your computer with your remote job, and this is a great test run for your new job.
Final Thoughts
ZipRecruiter makes it very easy to search for remote jobs, but you can't rely on the system alone. If you can use the right search terms and verify your contact info, you'll be one step closer to landing your dream job. After that, you can book your trip around the world without having to take time off from work.