Graphic designers have ample choices when it comes to deciding where and how to perform the tasks necessary for their careers. For those with a creative edge, having a career with flexibility is a bonus.
Do graphic designers travel for work? Typically, graphic designers do not have to travel as part of their job requirements, but the nature of graphic design makes it so designers can work remotely and travel while they work.
Read on to find out more about graphic design, the different job options available, and how travel fits into it all.
What Kind of Career Is Graphic Design?
Graphic design is a flexible field. It is crucial to understand what a graphic designer does and their educational background to understand why it is so adaptable.
According to the U.S Bureau of Labor Statistics Occupational Outlook Handbook, graphic designers use computer software or draw by hand to develop visual concepts. These visual concepts are used in advertisements, magazines, newspapers, and even brochures.
Many companies need graphic designers. Some of them include:
Any company or corporation with a website
Any business in advertising or video production
Any corporation requiring logos or branding
The job growth for graphic designers through 2028 is expected to be 3%, which means this career path is competitive. 22% of graphic designers are self-employed. Within the group of independent graphic designers, a wide variety of industries are covered.
Can You Work and Travel as a Graphic Designer?
A graphic designer can choose to travel for work. However, because graphic designers work in so many industries, the degree of freedom depends upon the years of experience. Additionally, how the graphic designer prefers to approach their craft is a factor. Some designers want the predictability of a traditional job, while others prefer flexibility.
According to Rasmussen College, several places hire graphic designers over a multitude of industries, and some are more suited for travel than others.
Also, the same places who hire graphic designers make intentional decisions on which of the following options work best for their business model, according to Shalyn Dever in "Agency vs. In-House vs. Freelance: What are the Pros and Cons."
Some graphic designer positions and how they fit in with traveling or working remotely are:
| | |
| --- | --- |
| Graphic Designer Position | Ideal for Travel? |
| In-House Graphic Designer | No, this is typically a traditional position. |
| Agency Graphic Designer | Agencies do sometimes hire freelance designers. |
| Freelance Graphic Designer | Yes, freelance work is ideal for travel. |
In-House Graphic Designer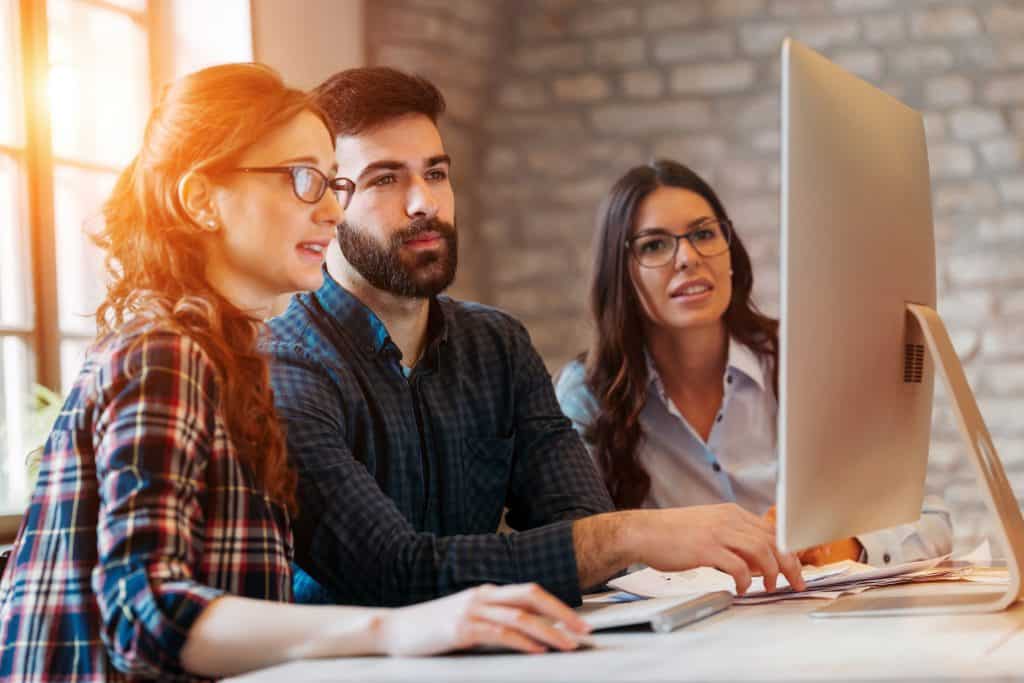 As an in-house graphic designer, according to Rasmussen College, the designer might be a part of a team or work alone. This type of graphic designer is expected to have a wide variety of skills. Still, the designer enjoys the benefit of learning a broad scope of skills related to that organization, brand, or niche market.
An in-house graphic designer goes to work like any other typical job and enjoys advancement opportunities and steady pay. This is not the area to work if a designer prefers to work remotely, but it is a great way to develop further skills designers need.
According to Dever, businesses consider putting together an in-house team to make graphic designers a part of the company culture and vision. Also, it allows for greater collaboration.
Agency Graphic Designer
When a designer works with an agency, they work with several other graphic designers as well. Working in an agency affords the designer to have mentors and focus on their craft. Creative collaboration is an important aspect of graphic design.
However, when working for an agency, designers face job uncertainty since agencies hire according to their contracts. As work dwindles, designers could be laid off. However, when the work is available, there are deadlines to meet that result in long hours. Agencies do hire freelance workers, and many freelancers work on side projects as needed.
Dever points out that a business may choose an agency for their graphic design needs because of an agency's ability to manage ad platforms, thus saving companies money and time.
Freelance Graphic Designer
A freelance graphic designer sets their schedule and works remotely. This freedom means the designer could work from home or possibly be traveling while working. A freelance designer is responsible for their entire business, from marketing and maintaining contact with clients to bookkeeping and scheduling.
Freelance work is attractive to those who need the flexibility of time or locations. Also, they have more creative freedom and decision-making opportunities. On the other hand, freelancers lack collaboration with other designers and must secure their own work, which can take considerable time.
The attraction for a business to hire freelancers, according to Dever, is their flexibility.
Times Have Changed
There has been a shift in the workplace recently, and employees want to have some say in how they balance their work and life. Going to work does not necessarily mean physically going into an office anymore.
Also, according to Sohail Rupani in the article, "Pros & Cons of Hiring Freelance Graphic Designers VS Design Agencies," for JUST Creative, the new generation of workers think differently about work. They are more willing to embrace a level of instability in the workforce and use that instability to recalibrate and adapt careers and goals.
As graphic designers evaluate their careers and how to incorporate remote work and travel into their lives, businesses who hire graphic designers are assessing if they should hire freelancers instead of agencies for their graphic design needs.
Which Markets Use Graphic Designers
Graphic designers work in a variety of industries, including web, print, advertisement, and niche markets. All of these markets use graphic designers, as explained by Adrianne Bibby in "Graphic Design Career Guide: Training, Skills, Jobs, Salary, and More."
In all these cases, graphic design positions may be handled with an in-house team, an agency, or a freelance graphic designer.
Graphic designers work with newspapers and magazines to layout the pages. Also, publishers use graphic designers for the book covers. The role of the graphic designer in the print industry is to design the pages or covers in a manner that is attractive and catches the eye.
Graphic designers communicate ideas with images, so there is a need for designers in the digital market, including web design and even animation.
Graphic designers work with companies and corporations to advertise their business. Graphic designers understand their target audience and use their skills to create visuals that appeal to a business's audience. This includes both digital and print work.
To Travel, or Not to Travel – The Choice is Yours
Graphic design has the potential to be a flexible career. A graphic designer needs a particular set of skills, a reliable laptop with internet, and the necessary design tools to work. Beyond these requirements, a graphic designer can travel while working and plan work around the landscape of their day, if they wish.
Graphic designers might choose to take the traditional route with employment and seek out a job in their field with regular hours and consistency. However, there are a vast number of graphic designers who prefer to choose their projects and want to either travel while working or want to schedule their hours.
In either case, a graphic designer must stay current in changes in technology to give themselves an edge in a competitive market. The field of graphic design is broad. There are opportunities in nearly every industry to find a niche and market your skill in graphic design.