There are many careers that require you to travel for a living.  However, if you are looking at a job that has significant travel, it is very important to really understand what you are about to get into.  Since, I have spent almost half my 20 year professional career on the road, I wanted to provide you some of the pros and cons of a travel job.
Being Able to See New Places
Well, the first thing about a travel job is that you get to see a new city.   Depending on your job, it may be traveling to many cities, or mostly traveling to a single city.  It's important to know this information because they are very different.
For example, at the start of my career, I spent almost a year traveling back/forth to Memphis, Tennessee.   At first, it was pretty interesting because I didn't know much about the city and was exploring things like where to get good BBQ.  Once I figured it all out, it wasn't exciting anymore and felt like my travel turned into a long commute from my home!
As I moved up in my career, I started having to travel to multiple cities. This experience was totally different and a little more interesting. I was able to see new places, new airports, new cultures, new restaurants, etc.  However, the more you travel from city to city, it can get really tiring on the plane rides. So, for multi city travel, I noticed that my body started to get more exhausted.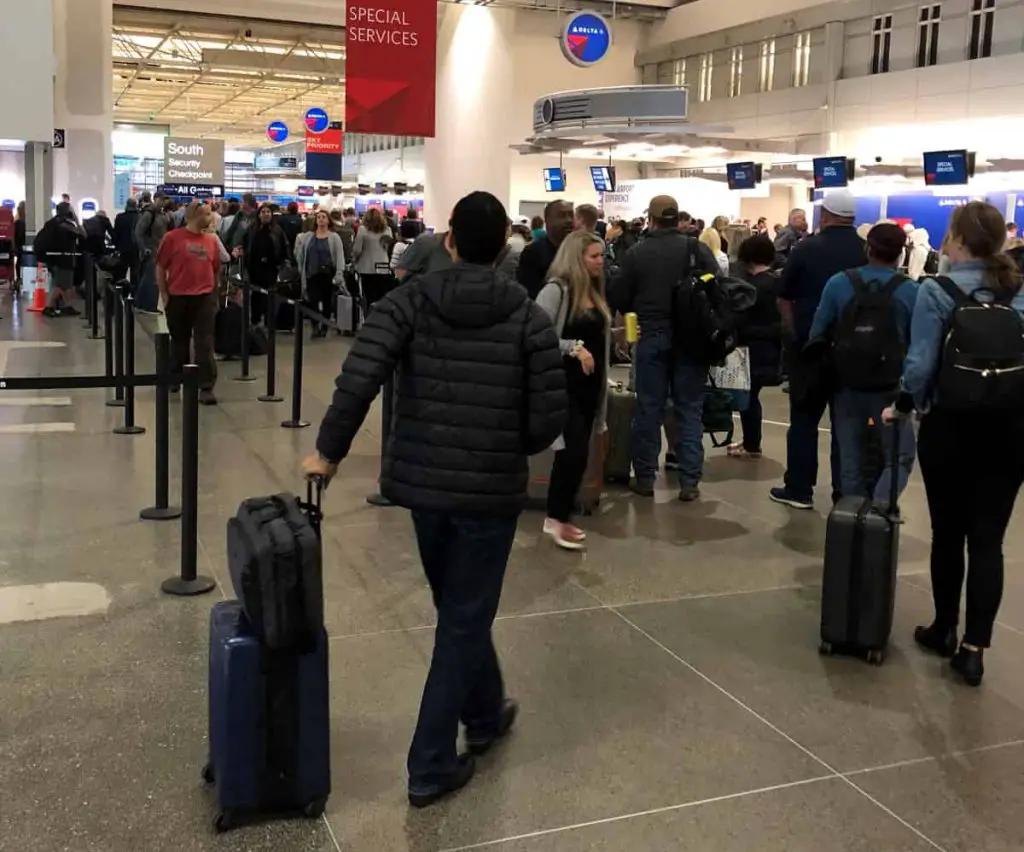 If your job is more demanding, you will have less time to explore the new city you are in.  On many business trips, I have had to prepare for meetings, and sometimes they run early in the morning and last till after 6 pm.   In these situations, you just don't have enough time to see anything on your travel. This happens frequently since work always comes first.
Saving on Expenses
One major benefit to traveling or working remotely for your job is that you will be able to save on costs for several of your daily expenses.   Some of these include:
Saving on food expenses.  When I travel for business, all my meals from the moment I step out of my house is covered till get back from my trip.  So, if I travel Monday and fly back on Friday, I will save a significant amount on my grocery and restaurant expenses.
Saving on gas/auto expenses.  When I worked full time in a cubical, I used to drive at least 12,000 miles per year.  In my travel job, I barely use my car and maybe average 4,000 miles year. This has been a huge savings.
Saving on TV and internet expenses.  I really don't need cable TV since I'm able to watch most sports on other channels while at the hotels or bars. I have also been able to get internet and MiFi with travel positions, so I don't have those expenses.
Saving on phone expenses.  When you travel for work, you will most likely get a work phone.  You will need to check with your company but many allow you to have them for both business and personal use.
Earning Benefits and Points
Another huge benefit of a travel job is that you will earn lots of benefits since you are always on the road.  Some of these include:
Earning airline miles.  My company always allowed me to book directly with my primary hub airline.  This allowed flexibility for changing flights. Every flight that I take, I earn air miles.  This means I can take my family on vacations with minimal costs!
Earning hotel points.  When staying at hotels, you typically can earn points or rewards with them.  I stayed mostly at IHG and Hilton hotels. This has allowed me to gain points with those programs.   This turns into free stays for my family during our travels. Another great benefit you get is that when you move up in the reward system like becoming a Diamond member with Hilton, you also get other perks like free breakfast.
Earning car rental points.  If you rent enough cars, you will ultimately earn free rentals with some of the car rental agencies.  This will allow you to use those while on vacation or if you wanted to do road trips with the family.
Earning credit card rewards.  Some companies allow you to use your own credit cards for all the expenses, then reimburse you after doing an expense report.  At my job that is how it worked, so I was able to earn several thousand dollars in rewards for my travels. You can get credit cards that are travel focused that earn more points or rewards.  Of course, always do research and read all the fine print to make sure the card you get is appropriate for what you need.
Earning points and loyalty rewards on food.  I personally have not done this, since I don't eat at too many chain restaurants. However, I have many co-workers who say it helps them get many rewards.
Being Able to Meet New People
One really cool thing about a travel job is that you get to meet new people in different places.  I have been fortunate to build friendships with people all across the US. This has helped me by opening up new opportunities for work and/or learning more about a city before moving to it.
Another huge benefit to a travel job is being able to professionally network with other people.   On days where I'm feeling more social on the plane, I might talk to the passenger sitting next to me.  Sometimes, they can be entrepreneurs or higher executives. I've never gotten a job this way, but have added LinkedIn contacts.
Work Schedule
The toughest part of a travel job sometimes can be the actual work schedule.  This will depend on when you have to see your clients and how many cities you need to visit during the week.
The ones that involved waking up at 4:30 am on Monday mornings to catch a 7:00 am departure was always the toughest for me   It pretty much ruined my Sunday evenings, since I started thinking about work and having to go to bed early. Then in the morning, I always had to scramble to remember not to forget anything like my watch, wallet, computers, etc.
Once I arrive at the client site from the airport, I still have the rest of the day which involves working with the client.  By the time I get back to the hotel to check-in, I'm absolutely exhausted. Forget about going to restaurants or checking out the city. At this point, I just want to eat at the hotel and get ready for bed. If you have to work onsite almost every week, check out my other blog post to see if you can negotiate ways to work remotely.
After the first night, the next day might require travel to a different city. Hopefully, your travel is not 3 or 4 different cities for the week.  Mine usually were one or 2 per week, which are more manageable.
Towards the end of the week, fatigue starts setting in.  Typically, I try to get home Thursday nights, but if that doesn't work I fly back on Friday morning.  My problem with Friday morning flights is that if anything happens like delays, it impacts my Friday, and weekends. So, it basically means less time to spend with the family.
Keeping Your Body Healthy
When you are on the road, it can be very difficult to keep yourself healthy.  Just the traveling logistics initially requires you to put your body through security checks at the airport.  Then you need to sit in a small space on an airplane that could last for hours depending on your destination.
Once you are at the destination, food becomes another challenge.  If you are running late, all of sudden you see yourself eating fast food.   If you have more time and a large meal budget, you might find yourself overeating at restaurants.   You might start with appetizers, then a big meal like a ribeye steak, finally you will wash it down with that delicious dessert at the end.
The other thing that can happen is that you might drink too much on the road.  While drinking and hanging out with co-workers can be fun. It can be easy to sometimes drink too much.  I've had many co-workers who would just eat dinner in liquid form.
The last thing that might get impacted on the road is your exercise schedule.  For me, sometimes I get so tired at the end of the day from the travel, that I just can't hit the hotel gym.  I try to not have excuses, but it really does get more difficult. When I work from home, I always hit the gym at least 6 times a week.  So I know, traveling is causing some of it for me.
Work Life Balance
With a travel job, work life balance becomes more blurry. Let's say at a typical job you work 8 hours per day.  Well, if you get up at 4 am to catch a flight, and you don't get back to the hotel till 6 pm, then it might feel like you worked more than 8 hours for the day.
You might say that, well you get to have free time on the plane.  But, plane time versus my time at home is much different for me.  I might be able to catch up on a book or 2, however I don't get to relax and hang out with the family.
Then you have times where you have to be at client site Monday morning, this means you lost your Sunday night.  Again, spending Sunday night at home, versus traveling to a client site means a loss of my personal time.
Since traveling for a living is very flexible, you might be spending part of your evenings on the road preparing for the client visit. This could be creating presentations, writing code, or whatever else you might do.
Conclusion
If you can figure out a way to balance your traveling career, it can be very rewarding with the best of both worlds.  For example, later in my career I was able to control my travel more and mostly flew Monday nights and came home on Thursday nights. It seemed on Monday nights, the airport was less crowded and I usually was able to get upgraded to first class with my status.
The other thing I did was arrange my travel to be every other week.  This meant I was able to work remotely from home. During the week I was home, I was able to get a lot of work done which really showed my value to my company.